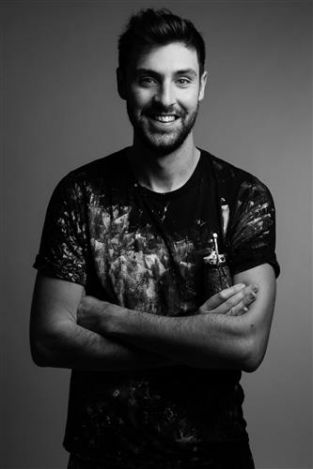 One of the UK's most dynamic cityscape artists, Edward Waite, captures the city bustle, bright lights and constant rush of urban life using vibrant hues and his energetic three-dimensional technique.
Born in Sheffield in 1989, Edward's fascination with architecture and the buzz in various locations stems from his two-year journey across the globe which he commenced after studying Fine Art at The University of Lincoln. From Brazil to Australia, Edward referenced the most inspiring of places he visited in his sketchbooks which were flooded with sketches, notes and ideas for future works. One particular location of significance to Edward's artistic career was Times Square, New York; the artist's unique 'drizzle' technique was first inspired by ketchup bottles in a New York diner. In addition to New York, Paris and London comprise many iconic landmarks which are amongst Edward's favourite hotspots.
Going from strength to strength, in 2014 the artist's first book "A Time to Waite" was published. Since then Edward has undertaken many projects including painting a piece for the Royal British Legion in 2015, inspired by the Tower of London poppy installation. Having collaborated with Savile Row tailor Andrew J Musson in 2016, Edward has even merged his art with fashion.
"It has been a swift rise to fame and success for the artist, who is not even 30, but he is potentially on his way to becoming one of the most renowned artists of his generation" Arcadia, 4 Walls Magazine
We were delighted that Edward Waite attended the official opening of CLK Art and the gallery continues to work closely with the artist.
VIEW WORKS
© CLK Art Limited, 2018. All Rights Reserved. Company No. 3749292.