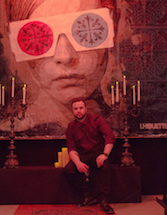 Lhouette
Lhouette's career as an artist so far has taken him to London's Park Lane via Brixton and the Houses of Parliament.
First drawing inspiration from East London's street art scene, appreciating the culture as outsider and a self-taught art form. Prior to this, Lhouette enlisted in the Royal Navy at the age of 17 and found himself travelling to the Caribbean, South America, Africa and Europe for six months at a time.
Elements of Lhouette's early techniques can be seen amongst his more polished recent studio artworks, through the use of raw and industrial throw-offs. The striking binary between the old and new, and the raw and refined is the major juxtaposition inherent in his work. "My techniques originate from self-taught practices – I started with a mixed box of old mechanic aerosol paints and scrap sheets of salvaged wooden board. Along with a moody scanner/printer that I had acquired to create stencils and transfers, unknowingly at the time I was venturing into pop art realms…the work was beautifully raw! I try to retain that essence as the work continues to develop."
Lhouette has since had a number of sell-out exhibitions within commercial contemporary galleries whilst also undergoing community projects, encouraging the younger generation to express themselves through art. Lhouette's collaborative project with Brixton's Angell Town Estate in 2016 garnered significant attention from the media.
In 2017, Lhouette was hand-picked by the Dorchester's art comity, which include the likes of Sir Peter Blake and Damien Hirst, to exhibit his Post Urban Glamour collection at one of London's foremost Hotel art venues, 45 Park Lane – part of The Dorcester Collection.
Intricately intertwining Lowbrow pop culture iconography and mixed mediums into a body of work Lhouette coined as "Post Urban Glamour." The work has gained significant interest from the media, celebrities and international collectors such as Hollywood star Antonio Banderas, the Khayami Family, The Dorcester Collection, Ronan and Storm Keating and Formula One engineering genius Adrian Newey OBE.
VIEW WORKS
© CLK Art Limited, 2018-2019. All Rights Reserved. Company No. 3749292.