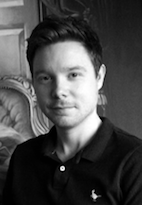 Ben Jeffery
Born in 1986, artist Ben Jeffery grew up in Barnet, North London, and now resides in Hertfordshire.
Ben's keen interest in art stems from his Grandad introducing him to the work of John Varley, the renowned 18th Century watercolour artist. The Varley's are related to the Jeffery family.
First realising he wanted to be an artist in secondary school, Ben Jeffery used to have portrait competitions with fellow classmates. Continuing to study art to degree level, Ben received guidance and advice throughout the years although his technique with oils is mostly self-taught and his style has evolved over the years.
After graduating and as an avid Sci-Fi movie fan, Ben originally wanted to become a concept artist for films and video games but felt that paint "just has a depth to it that can't be beaten". He was soon signed up by one of the UK's leading art publishers before exhibiting his work nationally.
Ben explains his spontaneous method of working:
"A lot of the time a painting evolves as I paint it. I always have a basic composition in mind but I let brush come up with the shapes and I choose colour almost on the spot. Other times, I see an image in my head and quickly sketch it out. I normally work in two stages, I first paint the entire canvas in base colours. After it has dried I paint a second layer, adding more and more detail. After I finish a painting, I leave it a day or so before looking at it again, this helps me pick up on areas that need changing."
Deriving inspiration from various sources including his surroundings, Ben Jeffery's parents have a house in the Herefordshire countryside and one on the Isle of Harris which both offer stunning views and have provided ideas to the artist for many years. Working with a focus on the contrast of light and dark and drawn to vivid colours, the young artist creates original paintings in a contemporary style.
Jeffery's level of phenomenal talent with oils is evident in his diverse range of subject matter; from wildlife, landscapes and cars to detailed portraits and figurative work, there are few subjects that the fine artist hasn't explored.
VIEW WORKS
© CLK Art Limited, 2018-2019. All Rights Reserved. Company No. 3749292.