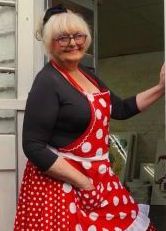 "The subject matter is just a means to explore the skill of tonal values, composition and the drawn line. I have moved through various phases in my development from minimalist poppy images to more complex structured paintings, exploring a deeper resonance of colour. I visited India in 2011 which left a lasting impression on me. The intense colours I saw around me challenged my thinking as to how I could replicate the importance of the relationship of colours to each other thus creating movement on canvas. My latest works are the result of this thinking. I have taken the abstract form to a larger scale, intensified the colours by adding a resin finish, thus improving the "movement" within the work. Where I am now, is proving the most exciting of all my careers, watch this space!"
Prior to a career as a professional fine artist, the fascinating Jean Picton was heavily involved in show business. In 1954, Jean was invited to become a Windmill Girl at the famous Windmill Theatre in the West End of London where she worked with greats such as Harry Secombe and Bruce Forsyth.
In the 1970's, Jean spent some time in the USA having been invited to represent the UK with her cabaret act. Jean performed at venues such as the Chicago Hilton Hotel and the Carlton Hotel, New York. Whilst in the USA, Jean became a regular on the Joey Adams chat show 'Coast to Coast'.
Upon returning to England in the 1980's, Jean was often seen on British television and worked on shows such as: Hi-de-hi, EastEnders and appeared in many TV adverts. During this period, Jean was simultaneously working on the British cabaret circuit as an established performer. Upon retiring from show business at the beginning of the 1990's, Jean began painting for the sheer love of it and soon realised she had a talent for art. Having made the decision to pursue art on a more serious level, in 2002 Jean attained a BA Hons degree in Fine Art.
Since graduating, Jean's new career as an artist has gone from strength to strength with her vibrant, expressive and semi-abstract creations being appreciated globally. Now a professional artist, Jean's work is exhibited and sells in locations including: the UK, Ireland, France, Spain, Portugal, Germany, North America, Mexico, Hong Kong, Australia and New Zealand.
Contact us at CLK Art to discuss artwork by Jean Picton.
VIEW WORKS
© CLK Art Limited, 2018. All Rights Reserved. Company No. 3749292.