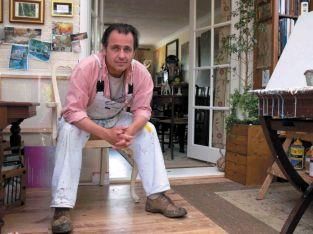 Mariusz Kaldowski was born in 1962 in Poland and he graduated with an MA from the Academy of Fine Arts, Kraków, in 1987. He is a painter, a print maker and a graphic designer.
Since moving to the UK in 1996 Kaldowski has been busy creating, exhibiting and selling his original paintings. Since 2002, he has been Artist in Residence in Regent's Park and since 2009 he has been working with the National Trust as their resident artist for the South East region.
Mariusz comments on these residencies: "Both appointments have been a joy to me, and both have broadened my horizons and my outlook beyond measure. This country has always shown a practical interest in the arts, and I know that well. But to see it exercised in the everyday world leaves me very appreciative of the openness I've encountered here."
Mariusz Kaldowski's skill for capturing the natural world has been recognised by numerous awards. To name a few, the Award for 'Expressing the Essential Spirit of Holland Park', in addition to the editor's choice of 'The Artist Magazine' and the 'Nina Hosali' First Prize of the Free Painters and Sculptors Society, both in 2006.
Kaldowski is known for his work of natural scenes and landscapes which seem to possess an ethereal quality and have been likened to the work of Monet. In addition to these subjects, the artist occasionally explores other avenues including cityscapes and paintings which illustrate classical music. In 2000 he completed a frieze, entitled 'Four Seasons, Four Stages of Life', as a visual expression of Vivaldi's music. This frieze shows life as part of the classical performances of the Polish National Radio Orchestra and has been featured on Polish National Television.
With over 200 shows – including over 100 solo exhibitions – to date, a few noteable exhibitions are listed below:
Barbican Centre, London
St David's Hall, Cardiff
Gallery 27, Cork St. London
Arndean Gallery, Cork Street, London
Menier Gallery, London
Bankside Gallery, London
VIEW WORKS
© CLK Art Limited, 2018. All Rights Reserved. Company No. 3749292.