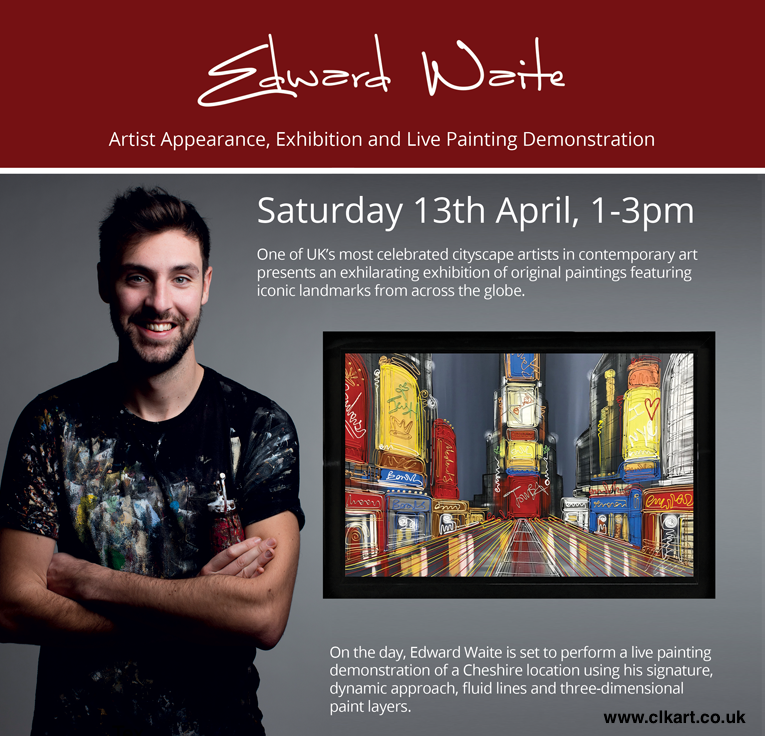 Saturday 13th April 1-3pm will see 'The Best of Edward Waite' artist exhibition here at CLK Art.
Edward Waite's art is fuelled by his fascination for travel and architecture. The bustle and energy of urban life are captured in each painting through his dynamic approach, fluid lines and three-dimensional paint layers.
Approximately thirty exhilarating original cityscapes have been created by the artist exclusively for the event. Featuring iconic landmarks and cities from across the globe, subjects include New York, London, Manchester, Paris and more.
However, it is not only works of far-away, city locations that Edward will showcase. On the day he is set to perform a live demonstration of his first ever original painting of Lymm in Cheshire – where the gallery is located. The piece will be created in Waite's signature sauce-bottle style of painting.
The exhibition will include an array of paintings by Edward from each of his various painting techniques. In addition to sketches, the pieces displayed will include favourites from his three-dimensional textured and glossy-layered paintings. The contemporary artist is especially excited about sharing his 'Merging Concepts' collection which he describes as 'interactive' and 'almost holographic'.
Edward Waite shares more with us:
"Every year I release a special series to sit alongside my normal style of work. A few past collections are: The Stripped Back Series, The Gilded Collection and, my most recent, The Resin Series.
By incorporating new materials, such as gold/copper leaf and resin for example this also allows me to push into different areas and transforms my cityscapes. They then take on different forms. So, for example my resin series looks a lot more streamline and slick, which when sat next to my full 3D pieces creates a great contrast.
My new series 'Merging Concepts' is the one I have been most excited about to release. The collection has come from an evolution of ideas and a year of testing. My full resin series was so well received last year I knew I wanted to keep this element within my originals but wanted to adapt it.
Many tester pieces went in the bin but I then found the right formula which meant I could combine my 3D style and my resin series. As soon as this moment hit me I knew I had to release this series of work. Each painting out of this series is individually painted and then certain areas by design are piped in my classic 3D style. I then calculate which areas I can part resin. This process is so hard to get right. Containing the resin is always the tricky bit but I have now mastered it.
Every painting in the merging Concepts collection is so interactive. Having both 3D elements and resin areas within 1 piece plays with the viewers eyes and makes each original so engaging and almost holographic."
For those of you who are unaware, Edward Waite attended our grand opening event here at CLK Art. Since then, Edward has worked closely with us, creating many high-impact cityscapes for the gallery and your homes. We are thrilled to continue to work with the contemporary artist and bring you his solo exhibition, 'The Best of Edward Waite.'
Edward has kindly agreed to sign and dedicate artworks purchased at the event.
Please click here to browse works by Edward Waite.
To register your interest in attending this Edward Waite Exhibition, please contact us via either email: sales@clkart.co.uk or phone: 01925 757799.